The information on this page can be applied to our: Alnico Supreme, Hexbucker, Fat Pole, Gold Rush, Lumberbucker, Megametal, Z-bucker, or Mini Rail Pickups.
Our Humbucker pickups use a 4-Wire method of wiring. Each Coil's Start & Finish (aka Inside & Outside) have independent lead wires. Each pickup also has a Bare wire that serves as a Master Ground for the entire constructed pickup.
For Standard "Full Humbucker" Wiring:

GREEN = HOT
BLACK & BARE = GROUND
RED &

WHITE

= Twist Together & Tape Off.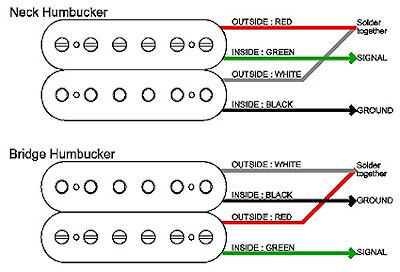 For pickups with 2 coils, we recommend using Control Pots rated at 500k. Or for a bit more headroom, a 1Meg Pot. For a Brighter response from your tone control, we recommend using a Tone Capacitor rated at .020µF. And for a Darker response, a Capacitor rated closer to .050µF
Applying a "Coil Tap" using a DPDT Switch:
The 4-Wire Leads on our Humbucker Pickups allow for the Coils to be "Tapped". This means that you can shut one of the coils off, allowing the pickup to function as Single Coil Pickup. The best way to do this is with a standard DPDT Switch, or a Push/Pull Pot (which is a DPDT Switch attached to a control pot).
Here are a few common Wiring Diagrams for this style of Pickup.
---
---